Protect your eyes while watching solar eclipses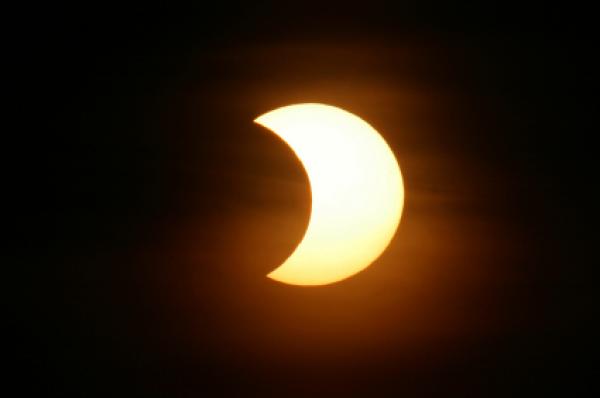 ©iStockphoto.com/Hans-Walter Untch
If you are lucky enough to be able to see a solar eclipse, you should make sure you protect your eyes and never look directly at the sun without proper protection.
This is because the sun's photosphere emits intense infrared and ultraviolet (UV) radiation. Just as UV radiation causes sunburn to skin, it can also damage the retinas in the eyes, but much more quickly than skin burn.
Our eyes can suffer permanent damage if they are exposed to direct sunlight for even just a few seconds. We highly recommend wearing protective eyewear to safely observe any eclipse.
The only way to view the uneclipsed or partially eclipsed sun safely is to either project or filter the solar photosphere's rays.
One safe way to view the sun is to project its image onto a screen, like normal white paper or cardboard. Projection works well with or without a telescope or binoculars. However, you must never look through the telescope's eyepiece or side-mounted finder scope when aiming a telescope or binocular at the sun to project a magnified sun's image on a screen of white cardboard.
Many eclipse viewers and photographers use special solar filters to view the sun during a partial eclipse. It is important to use the proper type of solar filter that are designed for the task.  Check that filters do not crack under the sun's magnified and focused intensity and avoid using photographic neutral-density filters or smoked glass (Harrington, 1997, p. 29). Solar filters must be treated with care or they can quickly become damaged and unsafe to use.
Suggested Equipment for watching Solar Eclipses
Eyepiece(s).
A solar filter.
A solar projection screen.
A camera with sufficient memory and apporpriate lens.
A cable release (including a spare).
A video camera.
A videotape.
Spare batteries.
A tripod.
A sound recorder to record comments and reactions.
A shortwave radio to keep track of time.
A space blanket.
Sunscreen and a hat.
A stopwatch.
Lunar Eclipse Viewing
A lunar eclipse can be viewed with the unaided eye unlike solar eclipses, which have special safety requirements. Some basic equipment recommended for lunar eclipses include:
Still cameras with a high-quality lens.It is highly recommended that one has a super telephoto lens because the moon appears to be only about 0.5 degrees wide when viewed.
A telescope that is securely supported on sturdy mounting.
The right film (eg. for slides or prints).
Extra batteries
Tripods to keep cameras steady, particularly motor-driven tripods for more control.
Cable releases, particularly for long focal-length shots or long exposures.
Motor drives to add to cameras.
Video cameras for those who want to capture the eclipse on video or DVD.
Flashlights (for dark evenings).
A sound recorder for comments and reactions.
A watch or stopwatch to record time.
Writing equipment to record information.
Some people recommend having a mirror lock-up (or MLU) to eliminate vibrations when photographing a lunar eclipse. It is also important for lunar eclipse viewers to have food and drinks, as well as extra clothing and other items of comfort to suit the weather at the time the solar eclipse occurs. Also, remember to charge everything. Make sure that all batteries, flashlights, tape recorders, or video cameras are fully charged on the day of the eclipse.
With regard to personal safety, it is best to be visible and preferably not alone when taking photos at night or in the dark. It is also important to stay away from restricted areas and seek permission, if required at certain locations, before taking photos.
Disclaimer: This article provides general information only. Information on this site is not a substitute for professional health care advice.
Advertising

Find Eclipses
Types of Eclipses
Astronomy calculators
More information
External link